SS23 COLLECTION –  United Colors of Benetton opens another exciting design chapter in its history.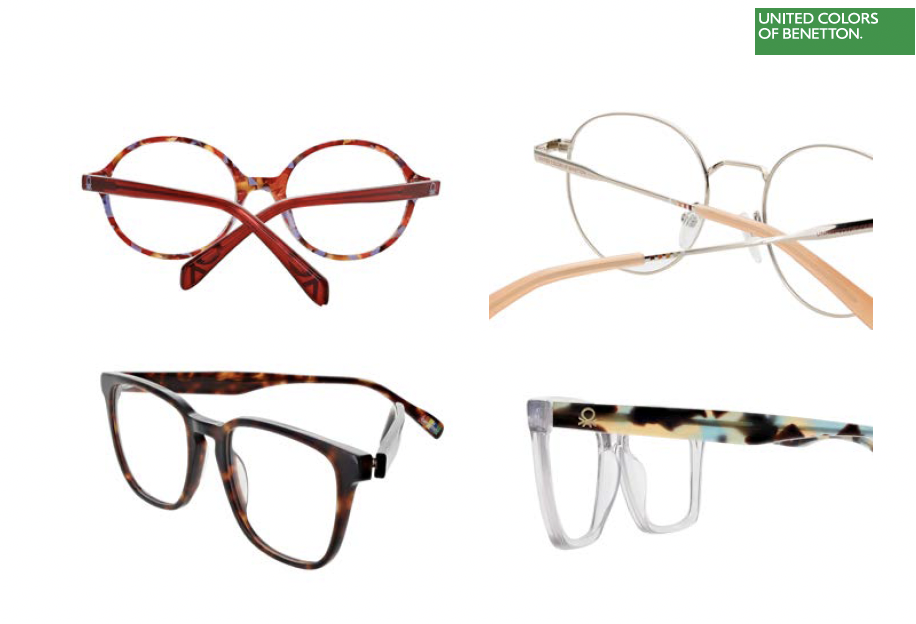 The latest Spring/Summer 23 eyewear styles, for women and men, fuse practical minimalism with the contemporary colour and pattern Benetton is famed for. Wearable and fun, the new Benetton optical collection opens up a world of expressive possibilities.
WOMEN'S COLLECTION
Innovation has always been at the root of Benetton's DNA. The Treviso-based brand has revolutionised the canons of fash-ion and visual identity over the past six decades. Women's style BEO1104 in a stunning Crystal Blue colourway contin-ues the ethos of allowing the wearer to express their individuality. The transparent acetate, in a premium crystal colour, features enamel stripes on the edges of the classic shaped front. A distinct and versatile piece to enter the new season with. Metal framed BEO3092 in Gold Coral is a trend-led, oversized style featuring a simple round metal frame. The minimalist shape has a subtle enamel detail on the rim which underlines the collection's enhanced attention to detail. Finally, the striking BEO1092 in Red Terrazzo comes in a premium multi-coloured terrazzo-style acetate in a signature round Benetton shape. The perfect 1980's eyewear addition to any woman's wardrobe.
MEN'S COLLECTION
A practical yet contemporary men's fashion aesthetic drives the new optical eyewear collection from Benetton. A subtle contrast, men's style BEO1101 in Grey Terrazzo features a handsome squared front with cool grey temples in durable acetate. A gold foil Benetton logo sits proudly on the sides. Retro yet modern, style BEO1097 in a Gloss Classic Tort colour way is an on-trend eyewear shape inished in a clever contrasting green lamination of lightweight acetate. Perfect for work or play. Lastly, optical style BEO3097 in Light Brown is a lightweight geometric metallic frame with a subtle tonal colouration of enamel painted on the rim and temples. The matching coloured tips signs off the style to perfection.