SUN 23 COLLECTION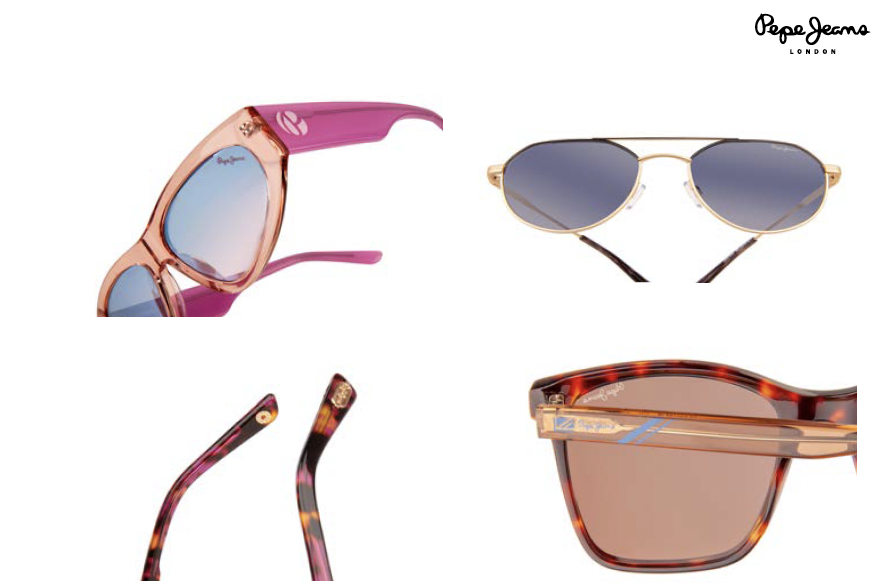 Now celebrating its 50th birthday, Pepe Jeans London is an iconic jeans brand with a design language known the world over.
Going global, the Pepe Jeans London SUN 23 eyewear collection takes the brand's famous street style to the world's most beautiful and exciting cities this season. Taking the lead from Pepe Jeans London's famous denim, the new collection is a youthful and energetic reinterpretation of classic eyewear styles. Remaining sincere to the brand's DNA, the new collection of women's, men's and unisex styles will inspire you to take your own trip of a lifetime as the brand celebrates its 50th year.
Unisex PALERMO is a sporty style in contrasting coloured acetate. The 90's inspired style is presented in a crystal colourway with a bold angular shape guaranteed to make a real statement. Perfect for those on-trend Y2K moments it features the iconic Pepe Jeans London 'P' on the chunky blue temples and corresponding logo on the lens. PANAMA is a women's metal style in a 1970's inspired shape with square mirrored lenses and pink acetate tips, adding an additional pop of colour. The style's gold metal corresponds with the soft lenses while remaining effortlessly wearable. An enamel logo featuring Pepe Jeans London's Union Jack sits patriotically on the side.
BANGKOK has a light angular aviator frame with a top bar and stylish half-rims framing the lenses. This unisex metal style features a discreet Pepe Jeans logo on the temples with marbled acetate temple tips complementing the blue lenses. A timeless thriller, MANILA is a cool men's style with polarised lenses to give the wearer extra UV protection. A keyhole bridge adds a retro and timeless touch while a flag-inspired detail, reminiscent of the Union Jack, is a reminder of Pepe Jeans London's punk era roots. The tortoiseshell colourway is accentuated by warm amber temples. From London's Portobello Road to far flung destinations across the globe, Pepe Jeans London's SUN23 collection offers contemporary, unisex style however far from London you venture.
PEPE JEANS 'HERO' SUN 23 COLLECTION
Pepe Jeans London is holding out for a hero to celebrate its half-century anniversary. The brand's special 'Hero' SUN23 eyewear capsule collection features two more elevated styles positioned above the main collection. Founded in 1973 in London's vibrant Portobello Road area, the new Pepe Jeans London Hero styles are a celebration of 50 fabulous years of diversity, parties and the brand's London roots. The gender fluid Y2K inspired styles reflect the vibrant London nightlife of the time.
The club kid, IBIZA is a chunky style with a denim inspired gold roundel and a fluid foil metal 'P' embellishment on the side temples. Bespoke marbled acetate temples contrast with a rounded retro-inspired eye shape in sunset Pink.
FORMENTERA is a monochrome, angular shape with a black front and the same Pepe Jeans London 'P' roundel on the outer temples, The style is pre-sented in a striking black and white striped marbled acetate and is engineered with five-barrel hinges for added robustness. Each style comes with complementary custom acetate chains: one marble blue and another mint green crystal and include polarised lenses.